Kent's Junk Removal Services
You don't have to tackle your junk on your own: 
Call the expert movers at Kent's Pack & Load for complete moving services, including packing, commercial / residential moves, junk removal, and storage.
Full Service Junk Removal by Pro Movers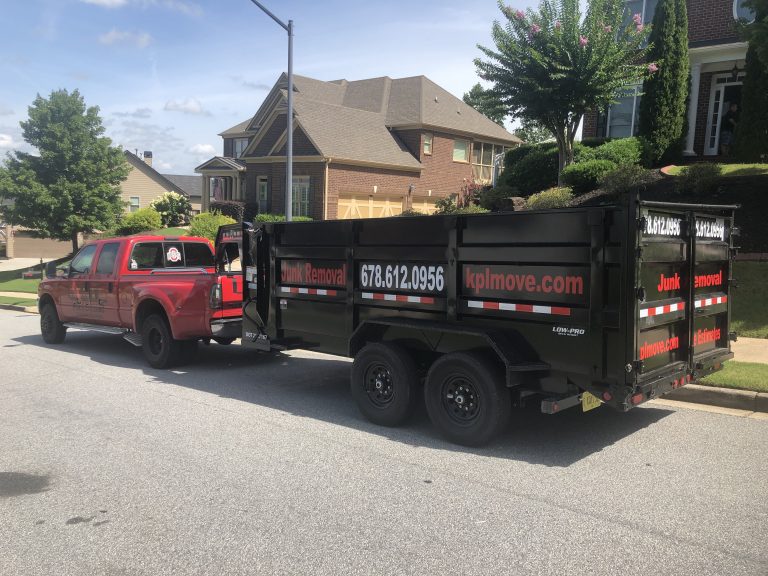 There aren't many places your junk can hide from our F-350 Dually 4x4, F-250 Super Duty 4x4, and 16 cubic yard trailer.
We go where others (especially dumpster container drop-offs) can't and our trailer tires are gentler on driveways.
Contractors love our trailer for hauling away old renovation materials or shingles in tricky places (In construction? Ask about contractor pricing).
Note the supports on the side panel of the trailer (where the text is), this is how we measure out the trailer into 1/3rds starting from front to back.
1/6 of a trailer (2.66 cubic yards)

$150

1/3 of a trailer (5.33 cubic yards)

$250

2/3 of a trailer (10.66 cubic yards)

$400

3/3 full trailer (16.00 cubic yards)

$550
*The pricing for our services (above) covers the cost of carefully removing items from your home, labor to load the junk trailer, and any labor to unload the trailer for disposal.
SPECIAL: Kent's Junk is trying out a new offering of 1/6 of a trailer (2.66 cubic yards) to facilitate smaller removals.
The 1/6 of a trailer will be available at a price of $150 while we try out this offering.*
Single-Item Removals (example: 1 couch) will also start at $150 depending on the size of the single item. (If it's something huge as a single item, we may have to stick to our regular 1/3, 2/3, 3/3 pricing by volume.)
Why choose KPL?
Kent's Junk offers a range of quality services performed by professional movers.
We are a local and family-owned business that stands behind the quality of our work.
You may not care about your junk items any longer, but we know it's important to safeguard the rest of the property in your home.
Having your removal service performed by a professional moving crew will let you rest easy. You'll know that your floors, walls, and doorways are safe from dings, scuffs, and scratches. 
We will handle everything from start to finish.
Morning and Afternoon Junk Service times available.
We want you to know what to expect when we come out to do work for you. Upfront pricing based on volume with posted fees for only the things that cost us extra to deal with. We have included our fees below.

Additional Fees:
Our full service junk removal is completed at flat rates by volume of the removal with few exceptions.
We'll only charge you extra for an item if we are going to get charged extra for that same item at the time of disposal. 
We get charged extra to dump certain things, so some items will incur additional fees.
You might not have these items, so we only charge clients that do have them instead of baking them into everyone's price. 
Examples of additional charges: 
Mattresses ($20 – note: no additional charge for a box-spring)

TV's ($10)

Paint Cans ($20 per can) will incur additional fees.

Small Tires ($10/tire), Regular Sized Tires ($15/tire), Large Tires ($25/tire)
One Last Thing:
If we have to haul the junk trailer to another pickup address for the same job, then an additional charge may apply for that extra stop unless that address is very close. This helps us cover our additional operating expenses on these types of jobs and lets us keep our prices down for our clients on the whole. Please note that the Additional Stop Fee may not apply where addresses are under 1 road mile apart. 
Additional Stop Fee: $25
How we Operate:
Our primary Junk Removal Asset is our 16 cubic yard trailer.
For a frame of reference, your giant rolling trash-can on garbage day probably holds just under 0.48 cubic yards.
At Kent's Junk, we divide the trailer into thirds (5.33 cubic yards per 1/3).
The price per each additional 1/3 of the trailer scales down, so the more junk you have us remove at once the less it will cost per additional 1/3 of the trailer.
If you only have an item or two, you can let us know on the phone and you can text us pictures of everything you want hauled off so we can price the work out for you accordingly.
Unlike moving, where your crew is dedicated only to your move each day for the entire day, we have two main "slots" for junk removal (Morning and Early Afternoon). This makes for great availability for junk removal appointments.
 TERMS / Restrictions
* Payment due at time of job completion and to be collected by credit card (no CC fee) at the time of completion removal services. Non-payment may result in unloading of removal items to any portion of the property accessible to the crew.
*
For jobs scheduled without an estimate, pricing by volume and applicable fees/additional charges outlined above will apply. An estimate will often give you a more accurate idea of what you can expect to pay compared to what you may anticipate simply based on the rates outlined on this page. Free estimate appointments can be conducted virtually (very 
quick
 and easy), are available Monday-Saturday 9AM-4PM, and are strongly encouraged as they are easy and give a better idea of what your costs will be. 
*Pricing is based on removal for regular household and furniture items that we can grab, pick up, and load. For removals where we have to shovel trash out of a home/garage/property, and/or use wheel barrows or pick up and place materials/property inside of trash bags in order to to get debris out to the trailer the payroll costs are simply too high to perform these types of work on flat rates. A custom estimate will be required for that type of work.
*Hazardous Materials, Medical or Biological Waste Materials, Explosive or Flammable Liquids, and Illegal Substances will not be accepted.
*Please note that the remainder of the trailer after the first 1/6th will not be be priced out in 1/6th increments while we try out our current 1/6th pricing offering.
*Please note that for jobs requiring multiple trips to the dump with the trailer, the pricing resets to the first 1/3 for subsequent loads. 
(We do this because the first 1/3 of a load mostly goes towards covering our operating costs and for each time we dump.) 
Call us for a free quote! (678) 612-0956
JUNK QUOTE REQUEST FORM
If you don't have time to call right now, or if it's after business hours, just fill out this form and we'll give you a call.